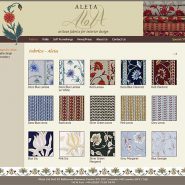 AletaOnline.com was created to display Aleta Ltd's collection of Fabrics and Soft Furnishings. We created an application with a database back end so we could enter new product, edit current product, and allow us to create relationships between certain fabric prints.
The site was created from scratch and involved creating the template, creating all the product galleries, creating the database, and scripting the data into the site.
Client Comments:
"When I initially requested On The Wire Media to replace my existing website, I hadn't anticipated the tremendous difference the new website they designed and built would make to the success of my business. On The Wire Media immediately understood and responded to the requirements of creating a workable, effective and beautiful online presence for me as a  bespoke and specialist high end fabric company. The limited production and often individual characteristics of my product range threw up both technical and artistic challenges which On The Wire Media met with equally creative solutions. The result has been enormously successful, and it is reflected in the glowing compliments I receive from customers on an ongoing basis. My relationship with On The Wire Media continues to be a positive one as they support, update and maintain my website in a highly reliable and cost effective manner. I would not hesitate to recommend their services to any business, large or small." -Aleta Bartel-Orton, Managing Director, Aleta Ltd.